President calls Abbas to announce break with decades of US diplomacy but Palestinians claim East Jerusalem as capital of future state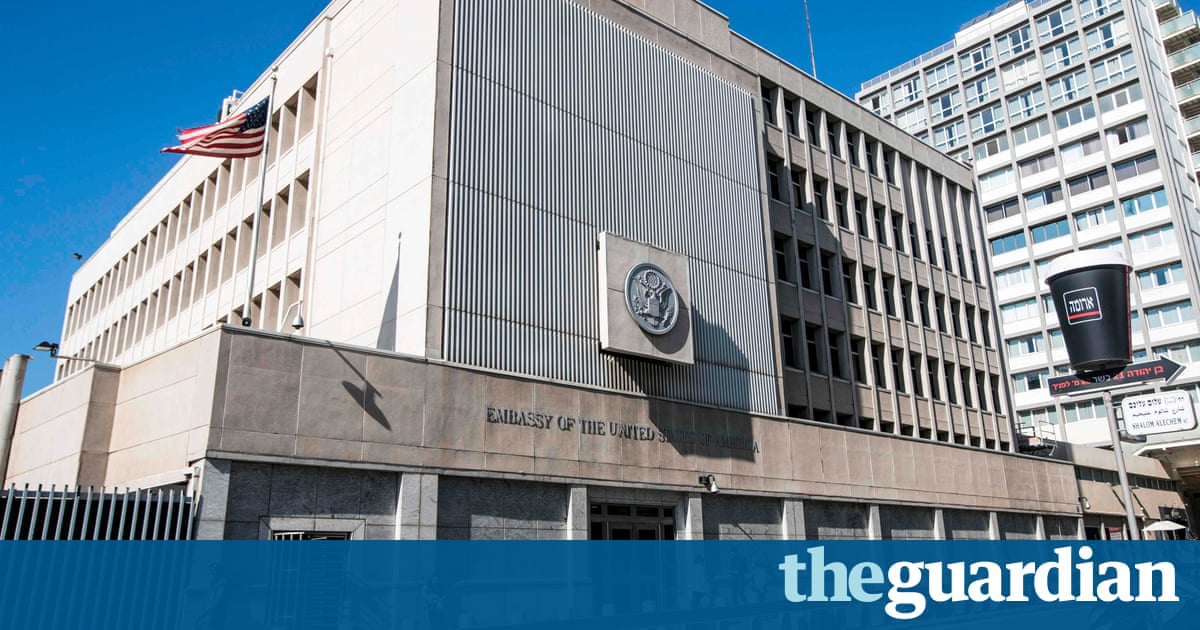 Donald Trump appeared on the verge of formally recognising Jerusalem as the" capital of Israel", in a move that would upend decades of US presidential diplomacy and could trigger unrest across the Middle East.
The suggestion came ahead of a key speech on such issues on Wednesday, as Trump called the Palestinian president, Mahmoud Abbas, and other Arab leaders, to be said that that he plans to move the US embassy to Jerusalem from Tel Aviv.
The disclosure- in telephone calls between Trump and Abbas on Tuesday- came as the US president declined to sign a waiver blocking the move as every predecessor of his has done since 1995- by a deadline of midnight on Monday.
Following the call with Trump, Abbas appealed to the pope and Russian, French and Jordanian presidents to intervene to block Trump's proposed move, according to his spokesman.
In a series of phone calls, Trump afterwards spoke with Jordan's King Abdullah, Egypt's President Abdel Fatah al-Sisi and the Israeli prime minister, Benjamin Netanyahu, to deliver the same message.
Another of those who advised Trump against his programs was King Salman of Saudi Arabia, who was also called by the US president, and warned him that any move would be a" dangerous step" that would inflame Muslim feelings.
Shortly after Trump's calls, the US ordered government employees to avoid Jerusalem's Old City and the West Bank until farther notice.
The Trump phone calls follow a week of often contradictory and mystifying indications from White House circles over Trump's intentionsand came despite stark warnings that the move would have serious repercussions for the Middle East peace process- and could trigger violence against US interests.
Furious Arab and Muslim opposition had been building on Tuesday to any possible US recognition of contested Jerusalem as Israel's capital, as European leaders expressed concern about harm to fragile Middle East peace efforts.
Sarah Sanders, the White House press secretary, confirmed that Trump would make an announcement on Wednesday.
Asked if the president was prepared to ignore the relevant recommendations of numerous world leaders, Sanders responded:" I'm not going to get ahead of the president's statements that he'll stimulate tomorrow. He did speak with a number of leaders this morning and he's going to continue to have conversations with relevant stakeholders, but ultimately he'll make what he feels is the best decision for the United States ."
Trump appeared to have made up his brain, she added." The chairperson, I would say, is pretty solid in his thinking at this degree ."
Following the phone call with Trump, Abbas likewise spoke with the Russian president, Vladimir Putin, who told the Palestinian leader that he backed the resumption of talks between Israel and the Palestinians including on the final status of Jerusalem.
According to read-outs from Palestinian and Jordanian sources, Trump's comments initially seemed largely a reiteration of his existing policy to eventually move the US embassy from Tel Aviv to Jerusalem– but they appeared to have caught presidents unawares in their timing.
Abbas's spokesman, Nabil Abu Rdeneh, said Abbas alerted Trump of the hazards of the such a decision to Middle East peace endeavors as well as security and stability in the region and the world.
King Abdullah issued a statement telling Trump that such policy decisions would have" dangerous repercussions on the stability and security of the region" and would obstruct US efforts to resume Arab-Israeli peace talks.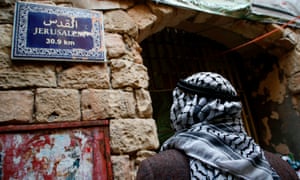 Read more: https :// www.theguardian.com/ world/ 2017/ dec/ 05/ trump-israel-us-embassy-jerusalem-palestinians-muslim-world