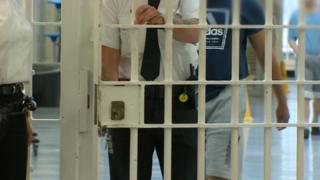 Plans for a PS3m investment in prisons in England and Wales will make the system safer, the government has said.
The Ministry of Justice said the money would include PS2m for 5,600 body-worn cameras, making all prison officers access to the machines, and PS1m for police-style handcuffs and restraints.
Four prisons will likewise trial the use of incapacitant spray to repres armed hostages safely.
The Prison Officers Association said the measures were "long overdue".
It comes after an investment in 24 -hour patrol puppies, CCTV cameras, mobile phone detection engineering, and metal detectors – as well as 1,290 extra prison policemen – designed to combat an "influx of violence" in prisons, the MoJ said.