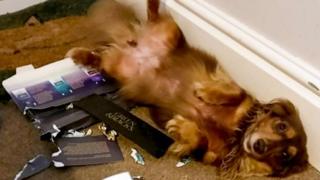 Pet owneds have complained to Sainsbury's after their puppies have fallen ill from feeing promotional chocolate sent through the post.
The supermarket chain has posted free Green& Black's chocolate bars to its reward card holders in recent days.
Vets have warned that bird-dog simply need to consume a very small amount of chocolate to find themselves in an "emergency situation".
Sainsbury's says it is investigating complaints "as a matter of urgency".
Sarah Hayward's cocker spaniel Jarvis was rushed to the vet after he tore into the promotional container while she was at work.